Tire Repair near Ann Arbor MI

When your tires start looking shabby, consider
tire repair
near Ann Arbor, MI. Before you need tires, it's best to know where to go so you're not scrambling. Get your peace of mind and your tires changed at LaFontaine Chrysler Dodge Jeep Ram of Saline.
When to Change Tires
With your tires consistently hitting Lower Peninsula roads, no matter the condition, you're eventually going to need to replace them. Most manufacturers suggest that around five years, it's best to have them replaced.
Your driving style and the places you travel will dictate how your tires fare. If you could go a few extra miles on the tires you have, rely on the educated opinion of one of our service professionals. They'll examine them and let you know when you should consider a new set.
What Signs Mean I Need New Tires?
Once you know the signs that your tires are wearing out, you can plan for the inevitable. Motorists who regularly venture out on rugged terrain or rural, country roads may experience wear before the five years. Other drivers who find themselves on newer roads, like Zeeb Road or other smooth thoroughfares, may endure less impact.
A wobbly or uneven feeling ride could indicate that your tires may need to be replaced. Prevent this in the future by regularly scheduling tire rotations. By rotating the tires every six months, your tires will usually produce a more even ride.
Make sure you're regularly checking your tire inflation either on your own with a tire gauge or during routine appointments. If you see the tire pressure warning light appear often, it may signal that a tire has a leak. Bring your car to us and we can look.
What is the Penny Test?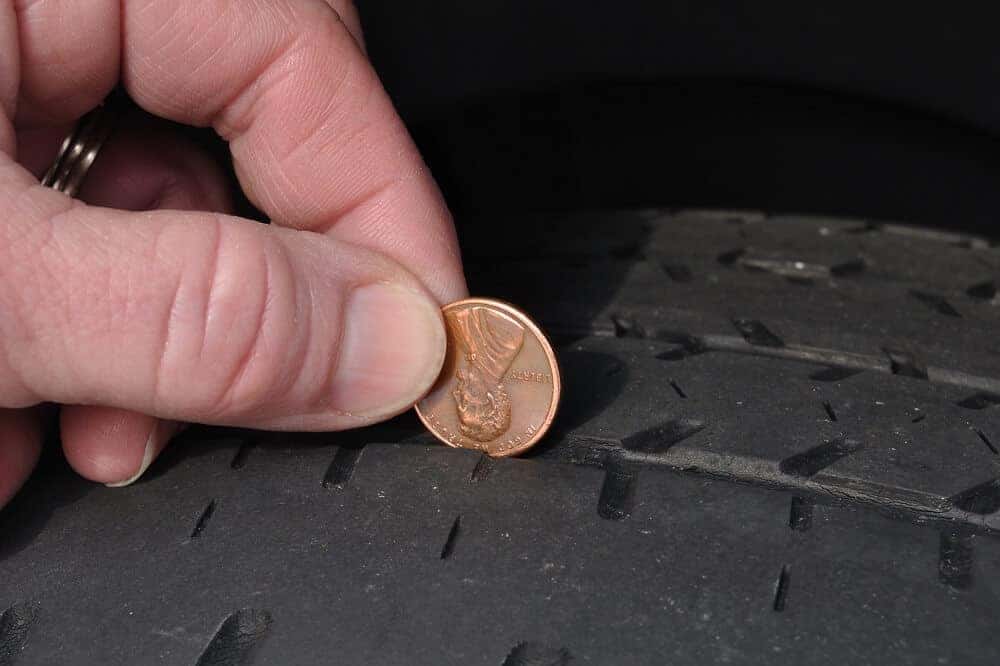 One surefire way to tell if your tires need to be replaced is by examining them. If they're at the 5-year milestone and look cracked or worn out, you're most likely going to require a new set.
But there's another simple way to check your tires. Try the penny test.
Grab a penny out of your purse, pocket, or anywhere else to measure the tire treads. Place the penny in your car's tire treads.
If they're deep and Abe Lincoln's head disappears, you do not need new tires. If the penny does not descend within the tread depths, your tires will likely need to be replaced in the near future.
Get Your Tires Installed Here
Luckily, we're tire experts. We offer every service your tires can use, including rotations, alignment, and installation. Our dealership features 25 major brands, so there's one that will perfectly fit your car. We also match any other tire retailer, so you're getting great tires at the right price.
Schedule Tire Repair near Ann Arbor MI
Shabby tires point toward the need for tire repair near Ann Arbor, Michigan. If your tires are five years old and looking worn, it could be time to get them replaced. We welcome you to make an appointment and get them checked out at LaFontaine CDJR of Saline. We take care of tires and much more!