Jeep Dealer near York Charter MI
One of these days, you'll be visiting a Jeep dealer near York Charter, MI. We know that you can find the new Jeep that you've been dreaming about ever since you decided to buy a new car in our showroom.
We carry the tools to get you in the car you want with our expert sales and finance teams at LaFontaine Chrysler Dodge Jeep Ram (CDJR) of Saline on your side.
Search Through Our Jeep Inventory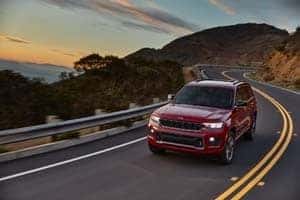 While you may be dreaming of one kind of Jeep, we feature a variety of Jeep models. You'll be able to try out the one you want and compare choices. Stop by our Jeep dealer to talk to an informed sales professional who can guide you toward an excellent car and demonstrate its features.
We also provide you with one of the greatest shopping tools—the online search. This gives you a look at all the models we stock as well as a list of available features. Search by trim, available features, and more. If you check off the boxes you want, Jeeps appear—like the Compass, a compact SUV, or the Grand Cherokee, perfect for off-roading and families.
Creating Your Finance Plan
You may not be dreaming about an ideal payment plan, but we can create a plan that lets you follow your dream of owning a Jeep. Our finance experts work with a variety of Michigan shoppers, so they know that not every plan works for every individual. They strive to find the one that does and will clearly explain all the details to you.
Through the Your Purchase Your Way program, you can buy your fantasy Jeep entirely from home. You pick your car, establish your financing, then schedule a delivery date to your home or office or come to our dealership. This app guides you through the process, and you'll be able to contact our finance team along the way.
Service for Any Car
With our Jeep expertise and sophisticated equipment, our service technicians quickly diagnose car issues and can fix them with accuracy and efficiency. Their knowledge extends toward any other major brand that you may drive, so feel free to schedule an appointment for all your cars. We cover all types of routine maintenance, advanced repairs and replacements, and even collision damage.
You may not realize that you need new tires, but we can examine them during your regular service appointment. If they look cracked and shake when you drive on them, you may be ready for an update. At our dealership, we sell major brands you trust and can expertly install them. We offer price match as well, so you're getting the best value available.
Near York Charter MI
You can enjoy the countryside and lakeshore views near York Charter, MI, from behind the wheel of a new Jeep. If you get the Wrangler, you'll be able to relish the breezes swishing through the car, too. When the weather warms up, Rolling Hills—the multiuse park—will be open, and you can ride on the multiple mountain trails or splash on the water slides.
Buy a Jeep at the Jeep Dealer near York Charter MI
Dream no more and head on over to the Jeep dealer near York Charter, MI, to buy a Jeep. With our guidance and support, you'll get a finance plan and available maintenance services that make owning your Jeep a dream.
To set up a test drive, contact LaFontaine CDJR of Saline.